Best of New York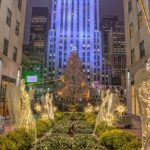 Central Park, Fifth Ave sites: The Plaza, Trump Tower, St. Patrick's Cathedral, and Rockefeller Center. Grand Central Terminal, Chrysler, The Empire State Building and The Flatiron.
The High Line, Chelsea Market, The Village, Soho, Little Italy, Chinatown, Brooklyn Bridge and Brooklyn Heights. 911memorial, Statue of Liberty, Wall Street, The Bull and Canyon of Heroes
Sites can be modified. Let's us know what you'd like to add or leave out.
Newbies
This tour is geared for first time visitors to see what they request and we suggest.
It's designed to provide our guests with an overview of sites that convey "the big picture" a touch of history, our lifestyle and culture. Let's visit the iconic sites, those that we're known for such as: Times Square, The Empire State Building, for example.
We'll grab a New York street hotdog or savor the best pizza on earth or perhaps venture into a 1937 est. Lower Eastside candy store. Perhaps a ride on the subway, it's part of the experience.
Consider: Let's traverse The Brooklyn Bridge and visit "America's first suburb" Central Park is 843 acres of magnificence and splendor; you will not believe its history and beauty.
See where some of the rich and famous are living and Billionaire's Row where "super tall" residences exceed 1,000 feet tall. Get a peek of "The Lady in the harbor" and stand where Washington was sworn in and visit the church where he prayed.
Hamilton and Washington
Hamilton's home beautifully restored with artifacts such as such as Washington's wine cooler, his original books, portraits as well as his desk. See a short video and dioramas.
The Morris-Jumel Mansion where Washington's home after the Battle of Brooklyn. John Adams and Jefferson's family dined there. In his bedroom upstairs Aaron Burr passed away.
We'll view Burr's home on Commerce Street and stop by 82 Jane St. home of John Bayard where Hamilton passed away.
Hamilton's grave. His son and wife Eliza are "resting" there next to him.
Washington's first inaugural site, signing of the Bill of Rights and the British High Command, Federal Hall. Bend an elbow at Washington's "watering hole." Oldest building in Manhattan.
Paul's Chapel, oldest church in Manhattan (1766) where Washington prayed on inauguration day. Known as "The Little Church that Stood" not a scratch on 911.
Architecture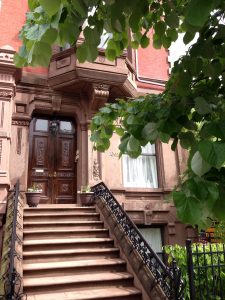 New York City has the most eclectic architectural styles in the world. A feast for architecture and art lovers. Striver's Row, Astor Row, Stone Street, Hudson Yards & 432 Park Ave just for openers.
Magnificent $16 million brownstones to post-modern beauties: Gehry's buildings, Henry Hardenberg's, Robert AM Stern's masterpieces, Sir Normal Forster's Hurst Building. It's endless.
Grand Central Terminal a Beau Arts masterpiece, "Grand-Daddy" of engineering genus. "Red Carpet Treatment" 1st used at track 29, The 20th Century Limited!
Hudson Yards City! The largest commercial real estate project in U. S. history! Mega project under construction. Check out "The Vessel" wet your appetite.
Brooklyn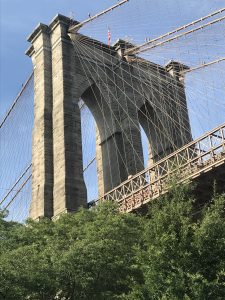 Traverse The Brooklyn Bridge by foot or ride; Get the folklore, the story of its construction. How it got its name, a fascinating and tragic story of genius, tenacity and beauty.
DUMBO, a vibrant new neighborhood. Jane's Carousel, magnificent, at the edge of The East River. "Saddle up for two bucks! The views are breathtaking!
Brooklyn Heights: "America's first suburb." Leaves of Grass and Death of a Salesman were written there, 600 homes standing built before the Civil War. See the home where "Moonstruck" was shot.
The Promenade, Brooklyn's most popular attraction is the best group photo opportunity in the city.
Williamsburg, a bi-cultural neighborhood, half Hasidic Jewish, you'll enter" another world and the other half is hipsters. You'll marvel at the best view of mid-town Manhattan. Breathtaking!
Grand Army Plaza, Prospect Park, Ocean Parkway, Coney Island, Park Slope, Ft Greene, Bushwick, Greenpoint ahh! It's endless.
How New Yorkers Live
How do we get around town? Let's take a ride on the subway. No reason to be nervous.
What are our pet peeves? Where's the best pizza and street hotdogs? You'll find out!
Where are all the schools, playgrounds, green space? How do we shop? Why do so many people come here to live? Why do so few leave?
Are New Yorkers satisfied with their quality of life? This city has the easiest access and most choices; 24,000 restaurants, for example. What's the cost of "dinner for two?"
How did this city become what it is? It's so liberal, diverse entrepreneurial and demonstrative? What changes occurred in our lifetime? Cost of a small one bedroom apt?
What needs improvement? What do we like and dislike? New York City is a "Tale of Two cities." Governing this city is a daunting challenge. Got a minute? We've got stories.
What about labor unions, the mafia, crime, homeless? What's of bacon and eggs? Let's talk about public assistance and public housing. Is crime a problem, air and water quality?
It's fascinating tour of topical issues, sites and experiences. Dig deep into the evolution of this city's cultural proclivities and the forces that got us here.
This tour is exclusively conduct by Cliff.
Are you a frequent visitor? This tour is for those who've "been there done that!" Lifelong New Yorkers are unaware of such places. Seldom or heard of sites. To amuse the curious, dig deeper.
Amiable Child Monument of St. Clair Pollack, a five-year-old boy who fell of a cliff on July 15, 1795 now next to Grant's tomb. The only cemetery of one in the city.
Manhattan's smallest building, 125 square feet! The owner "turned down" a $2 million offer. That's $16,000 per square foot! He made a sculpture on the building consisting of 10,000 keys.
Narrowest residential building in Manhattan is 9.5 feet wide, home of Edna St. Vincent Millay. Sold for $3.25 million, a real steal, huh?
The only East-West Street in Manhattan. Entrance to Peter Stuyvesant's bowery. A huge compass, embedded in a fenced area. Gorgeous 18th century street.
Smallest park in Manhattan, .04 acres! Be alert! If you walk too fast you'll pass it!
Site of the first pedestrian death in the America, an electric powered cab! A sign memorializing the event, in 1898. Poor chap "shocking!"
455 Central Park West built in 1887 as The New York Cancer Hospital. It's the 1st building of Sloan Kettering cancer & research hospital. "The Babe struck out there." 🙁
Pomander Walk, 27 Tudor style townhomes between 94th and 95th Street off West End Avenue. Very quaint, Bogart lived here. Lauren was not in his sites just yet, terrific oddity.
Coggan's bluff, a place to view the Giant's ball games; a favorite spot for those who couldn't afford a ticket to The Polo Grounds. Or were too cheap to buy one.
McSorley's Ale House (1857), All presidents since Abe drank there except Mr. Trump, it's not his thing!
TV, Movie & Mafia Hit Sites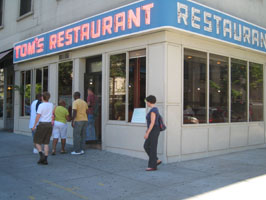 Your favorite sites and scenes are waiting for you. We're the #1 place for movies and TV. Eloise, DeNiro, Bono and Pacino's home, Sara J. Parker's house, was Dr. Huckstable's too. It's fun!
If it's not produced here, the sets are copied. The Friends coffee shop, Seinfeld's Toms Diner, etc.
Gossip Girls, Say Yes to the Dress, Woody Allan & Mariel Hemingway's bench, Needle Park, Big Pauli, Albert Anastasia and Joey "Crazy Joe" Gallo's hit spots. I've got a personal Mafia story too!
"I'll have what she ordered!" Harry met Sally scene at Katz Deli. The owner told has told us "it wasn't fake, it was the food!" Stop by Michael Douglas's home, Mia Farrow, Sting, Bono, etc.
Parks, Squares & Neighborhoods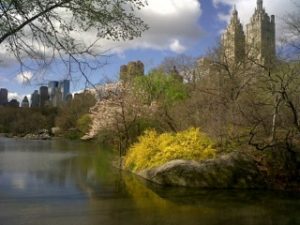 Central Park: "America's greatest 19th century artistic masterpiece" We'll grab a bench (8,500 of them). Why did it take 20,000 men 14 years to build? You'll find out!
Madison Square Park: Named after President Madison, he had a cottage there. A magnificent park rich in history, numerous monuments and the first Shake Shack.
World's first baseball game, the Flatiron Building, Met Life Tower world's tallest building in 1906, border the park. Eataly! Lunch at Eisenberg's (1929) nothing has changed there!
Washington Square Park: In the heart of Greenwich Village and NYU. Washington arch, Triangle Shirtwaist fire site, music, antics, chess players, a dog park, filled with energy.
Gramercy Park: Statue of Edwin Booth, actor, John W's brother is its centerpiece. The only park that requires a key. Want one? We'll tell you how.
Battery Park: There's an 1812 fort, numerous memorial monuments, views of The Lady in the Harbor, located "where it all began." A view, "you can't beat with a stick!"
Neighborhoods: Chinatown, Little Italy, The Meatpacking District (should be "The Pack Meeting District," Soho, The Villages, Upper Westside and Harlem are all on the table.
Special Occasion & Nostalgia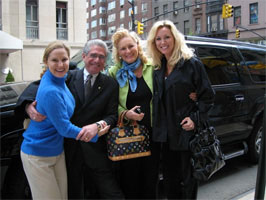 A 50th wedding anniversary, a milestone birthday or a trip back in time to "the old neighborhood" are among our favorite tours. We've provided many such tours; they're a joy for all.
Where the honored couple shared their first kiss, or the honoree's birthplace. The hall where their senior prom was, their first Holy Communion or Bar Mitzvah were celebrated, etc.
Provide us with the name places, addresses and we'll map out your itinerary. Please provide some notes regarding certain nuances and "inside jokes" to add laughter and tears to the venue. Tissues included!
Brooklyn Bridge & Both Sides too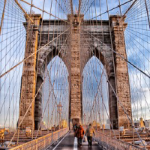 Cross the "Great Bridge" either ride or walk. Fascinating folklore, challenges and tragedies. Why did P.T. Barnum march elephants across? Why's it named Brooklyn Bridge? Not an obvious answer. Humm?
Visit America's first suburb, Brooklyn Heights, DUMBO, Jane's carousel, Williamsburg and Prospect Park, Grand Army Plaza, Park Slope, etc.
Back in Manhattan visiting Wall Street, 911memorial, City Hall, Chinatown, Little Italy, Soho and Greenwich Village too. Grab "a slice of heaven," best pizza on earth.
Your Special Requests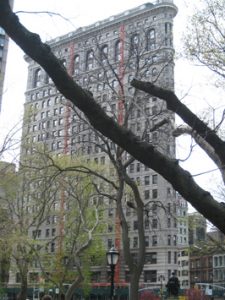 Are you planning to relocate to the city, learn how to "get around", what's "customary and usual, see the best places to live, things to do, where and how to spend leisure time and how to use the city.
Trace the life of a famous New Yorker? Go where they've lived, worked or hung out? We've done the research for Bobby Daren and Spike Lee tours, others too.
Tell us your interests and, if practical we'll plan your Custom & Private™ tour
We enthusiastically accommodate our guest's interests, preferences and whims. We're always happy to accommodate your requests and suggestions!