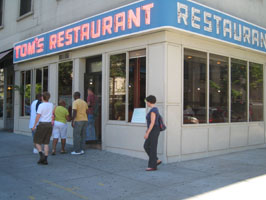 Famous movie and TV sites too, the Kleinfeld wedding dress shop, Gossip Girl's places, Tom's Diner of Seinfeld fame, Katz Deli where the Harry met Sally scene "I'll have what she ordered."  "Get the picture?"
Turning to Mafia sites, We'll stop at the site of Albert Anastasia's hit while getting ready for a shave in the barber chair. It was not a good hair day, ya think?
Spark's Steakhouse is the premier eatery for "family members." It's drips with testosterone  "Badda Bing!"
It's a fun tour with laughs, tales, intrigue and fascinating folklore.
Please! "Don't come heavy!"
Cliff exclusively conducts this tour.