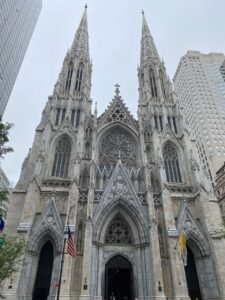 Where are the schools, the playgrounds, green space? Where do children play? Every New York City home is, at most, a ten-minute walk to a park. In fact, we have 600 parks with huge playgrounds and most provide supervision.
How do we shop? Just step outside your door and anything and everything is just a few steps from your home, apartment or condo. Why do so many people come here to live? We have 273 bus routes, 63 bus express routes. Subways, taxis, Uber, electric scooters, bikes, don't stand still.
The subway system is the largest in the world with 472 stations. You can transfer from a subway line to another with no extra fee enhancing the usage. "Straphangers" get to work and back home reliably. Get the app on your iPhone and ride like a New Yorker. You'll find we're happy to help you find your way.
We'll venture in various neighborhoods such as: Harlem and it's not what most people think. Once nearly 85% African Americans lived there. Now it's mixed, 40% African American the remainder are largely Hispanic and Caucasian. It's safe, energized, culturally robust, The Apollo Theatre created more musicians, singers, and popular music for generations.
Are New Yorkers satisfied with their quality of life? This city has the easiest access and most choices; 24,000 restaurants and 41 Broadway theatres. What's the cost of "dinner for two?" From McDonald's to 5* restaurants. Chinese, steak, Japanese, diners and takeout, endless!
We'll visit The Upper West Side, Greenwich Village, Noho, Soho, Chinatown, The Lower Eastside, aka "The Melting Pot."
How did this city become what it is? It's so liberal, diverse, entrepreneurial and demonstrative? What changes have occurred during our lifetime? What's the cost of a small one bedroom apt?
It's a fascinating tour of topical issues, sites, and experiences. Dig deep into the evolution of this city's culture and the forces that got us here.