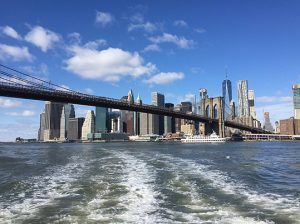 Recently New York City has built spectacular new buildings that will take your breath away. Innovative, creative and mind-blowing attractions should not be missed. If you haven't been here recently there's so much new to see.
Billionaire's Row is an assemblage of ultra tall and luxurious super tall residential structures. Three are taller than the Empire State Building. One is the most disproportional skyscraper on earth (Google 111 West 57th Street) and there's a four floor condo sold for $234,000,000! nearby.
The Vessel, a work of art, a 150-foot staircase is located in Hudson Yards, the countries largest mixed use development, a walloping $25 billion price tag. Our newest observation deck, "The Edge" is a platform jutting off the top of the building with a partial glass floor, Yikes!
Check out "Little Island" The expanded Highline, Seaglass merry-go-round, Economy Candy, Joe's Pizza, Rucker Park, Hamilton's house step inside.
Times Square is open for business and timeless favorites: The Empire State Building, Chrysler, Grand Central Terminal, The Brooklyn bridge, Jane's Carousel, DUMBO, not an elephant, The Dakota, 1 Vanderbilt another soaring tower, 911memorial, The lady in the harbor, Central Park and oddities, the narrowest house also the smallest building in Manhattan, fascinating!
Let's create your custom itinerary that'll target your interests and focus on old and new sites. Keep in mind, "the only thing that stays the same in New York City is change.
Questions? Bring 'em on. We're here to help you plan a visit to the world's most exciting and innovative city of our time.